This short guide will show you the easiest way to get a cool music visualizer video created for your music on YouTube.
What is a music visualizer video and why do I need one?
It sounds obvious, but if you want to promote your music on video networks such as YouTube or make use of Facebook videos you need a video. Some platforms like Soundcloud allow you to upload audio by itself but you need video content for your music to make use of the other major media platforms.
If you do not have the budget for a music video, or the track just isn't right for a music video – a music visualiser can be the answer you are looking for.
A music visualizer is a simple but dynamic, animated video that reacts to your music. Check out the example below:
The above example simply uses the song's artwork, it gives the music a professional and clean look on YouTube and costs a huge amount less to create than a full music video.
How do I get a Music Visualizer for my Song?
Soundplate offer the best value music visualizer service online. Simply select the style of the video you want, fill in the form and they will do the rest for you. Soundplate currently offer two visualizer styles with various options for customising them to suit your sound. Check out the steps below explaining how to get your video made:
Step 1. Select your visualizer style
Select a style from this page. There are two basic options, one which is based on the song's artwork and one where you can upload any image as the background for the video (the Soundplate tool will help you resize the images to the correct dimensions)
Step 2. Fill in Your Details & Upload Your Track
Once you have selected an option from the page above you will be taken to another page where you enter the details of the track, select some options and upload your music.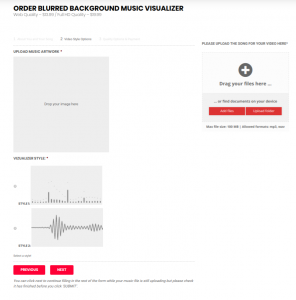 Step 3. Create Your Video
Once you have completed the simple form and made payment your video will be delivered within 48 hours!
CLICK HERE TO ORDER A MUSIC VISUALIZER VIDEO FOR YOUR SONG
What Kind of Music Visualizers Are There?
There are tons of great examples of music visualizers online:
---
Post Tags: