Progressing in the music industry does not have to be expensive. Here are 4 cheap and effective things you can do today to save money on music marketing.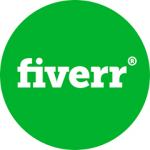 Have you heard of Fiverr?

It's the worlds biggest 'fixed price' marketplace where freelancers from all over the world offer their skills for just $5 (or £3.99). Admittedly, it can be a bt of a lottery in terms of the quality of work but if you are careful and check the user reviews each service or 'gig' before you buy, you can find some real bargains.

Here are five of our top picks from Fiverr to help push your music career forward:

Get an animated lyric video for a song for $5
Need some video content to tease your next song on Instagram or Facebook? Get a 1 minute lyric video created for just $5. If you would prefer the full song pay a little extra and it will make a perfect Youtube upload.


Top tip: Be as specific as you can when describing the style you want, send examples of fonts you like, background images or colurs etc. The more specific you are, the more likely you will get the perfect video made!

Click here to get a lyric video from Fiverr!

---
Refresh Your Social Media Design
As we mentioned in our recent article, branding is super important for musicians. If you think your social media could look a bit better, check out the social media design gigs on Fiverr. There is no need to splash out on an expensive designer for this when you can pick up some great designs super cheap here.

Top Tip: Check the designers past work BEFORE ordering to be sure of what you are getting. The quality of work on Fiverr varies so make sure you know what you want and what to expect before you go ahead and pay.

Click here to get some social media design work done for $5.

---
Get a track mixed / mastered
OK, so this one is a bit risky and personally I wouldn't trust an audio engineer who sells his services for a fiver but if you are willing to take a gamble you might just get some good results. If you want to play this one safer, check out the list of mastering services in our free music industry directory.

Check out music mastering services starting from £3.99

---
Get some new Music Merch Design ideas
Need a new design for your next band T-shirt? Fiverr can be a great place to start. Once you have found the right designer, work with them to create something great.

Top Tip: If you need to source someone to manufacture your merch, check out our music merchandise supplier list here.

Get some new band merchandise designed now!
---

The ideas in this post really are just the tip of the iceberg. If you use it correctly Fiverr can be a fantastic resource for musicians and music companies. Have a browse around their site now and see what top gigs you can find!

Fiverr


If you have found this useful, join our newsletter and stay up to date with our latest articles and resources?

Post Tags: