Follow these simple tips and grow your Facebook fans.
 3 Tips For Growing Your Music Facebook Fan Page — FAST!
Growing a Facebook fan page can be difficult, especially if you do not have a huge advertising budget.
If you have experimented with advertising or different types of content but not really found the results you have been looking for, these tips will help you take you fan page up to the next level.
Take Advantage of LIVE.
If you use Facebook regularly you will have no doubt seen that LIVE videos are currently taking over the newsfeed.
These festival live streams are a new, priority feature for the platform. Facebook's algorithm is helping them reach large numbers of people by sending notifications to your fans and putting them towards the top of fans newsfeeds.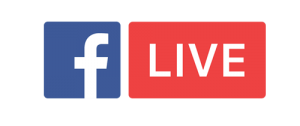 LIVE videos are a perfect opportunity to directly connect with your fans. While broadcasting live, don't shy away from asking your fans for help. Ask them to share the video, tag friends in the comments and even offer small prizes as incentives.
Here are just a few ideas of when to 'go live':
Behind the scenes: at rehearsals, setting up for gigs, on the tour bus, at the studio, listening to demos etc
Q&A: Live Question & Answer sessions or chats online are a brilliant way to engage with fans and let them know you are listening to them.
First Listen: Give fans a sneak peak — let them hear new music first or see a new video before it goes live on Youtube. Giving loyal Facebook fans exclusive content will keep them engaged.
On Stage: With just a little bit of tech know how it's easy to broadcast full live set via Facebook. This can be a really special way to engage with your fans and reach fans who would like to see you live but don't have the chance to get your gigs.


 
Consistency Over Quality
You know what they say, "Quality Over Quantity". Well, for the social media world, maybe think a little differently. Consistency is vital, post every day, engage with fans every day and the results will speak for themselves.
A live stream from your iPhone or a quick video thanking fans for turning up to a show can be just as powerful on Facebook as a professional music video or professionally edited piece of content.
Fans want the real you, not just the glossy finished product. Try to post at least once a day on Facebook and make sure you reply to messages and comments as this will help grow your fan base quicker than anything else.
Be consistent and post regularly — not just when you have something to sell.
Invite, Invite, Invite. (There is more than one way to send Facebook page invites.)
If you run a Facebook page to promote yourself as an artist or on behalf of your band you will already know that you can invite friends to like your page.
This is somewhat limited as you can only invite your Facebook friends who are probably your biggest supporters and already fans anyway. Luckily, there are other ways to invite people to your page, even if they are outside your immediate network.
If a Facebook user 'LIKES' one of your posts but is not a fan of your page, you can use that opportunity to invite them to your page.
This is an easy and inexpensive way to grow your fanbase. If a post you have 'boosted' a post using a Facebook advert or a post from your page has been shared to a large audience the chances are some users will have liked the post, look underneath the post it will say something like: "John Doe & 24 others" — click these names and a box will open detailing all the users who liked the post.
Once that box opens, simply click the 'Invite' button next to all the names of people who are not yet fans of your page.
If you have a piece of content that goes viral and reaches thousands of people this will be a very fast way to get your page off the ground!
Image via http://fptraffic.com/
You can also invite people to 'Like' your page by including a 'Like Box' on your website (click here for more information) or via email.
You may also wish to try using a Fan-Gate and lock free downloads or other premium content to fans of your page.
---
We hope these simple tips help grow your page. If you are looking for some great tools to help manage your social media accounts check out our social media resources page.
You may also be interested in finding out how you can get your page verified on Facebook, click here to find out!
---
Post Tags: